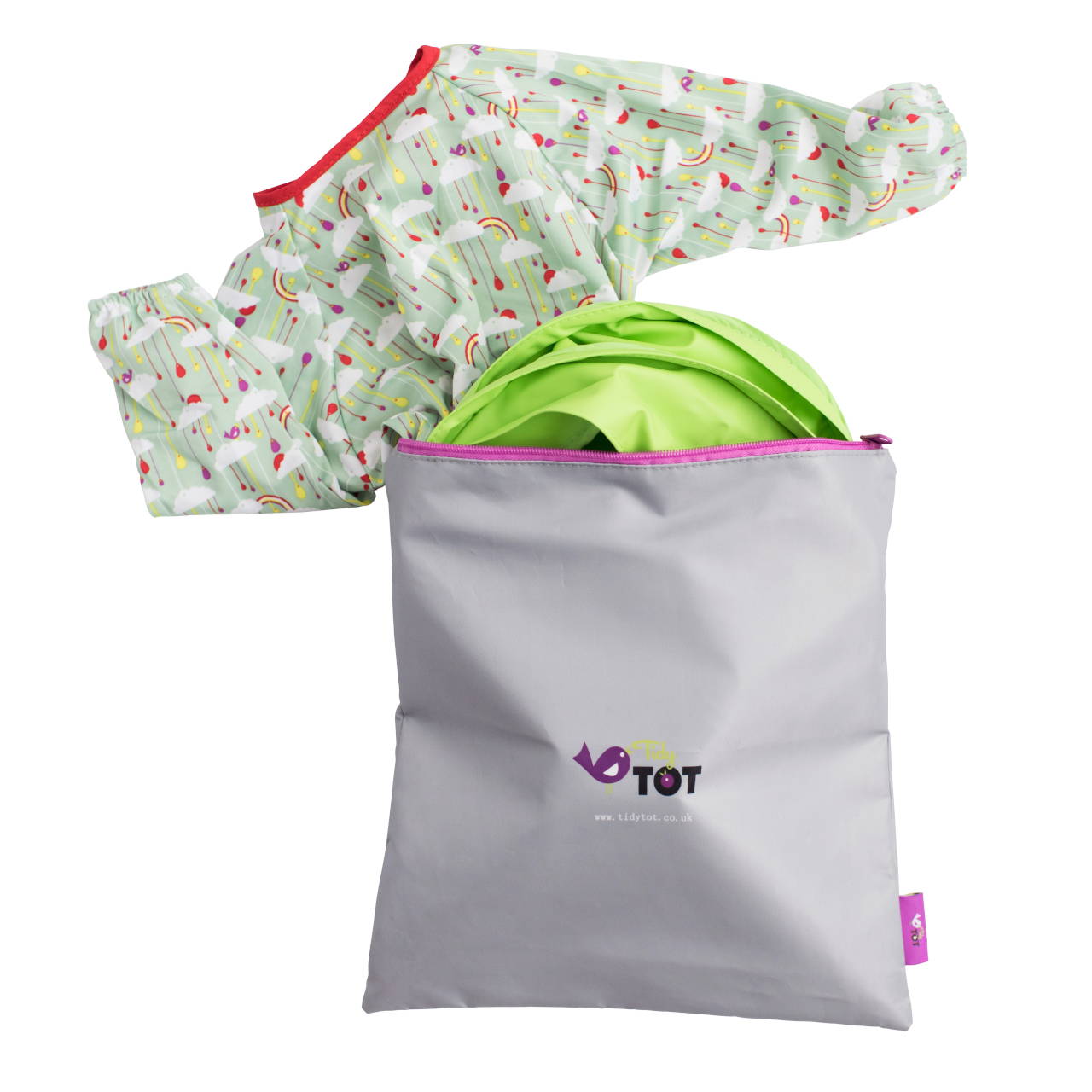 The multi award winning weaning aid that contains the mess of baby and toddler mealtimes. This essential weaning kit is suitable for babies from the very start of their weaning journey up to 2 years of age.
Bib attaches to tray; No More Gaps!

Wipe clan tray and machine washable bib make it so easy to clean

Fits highchairs and booster seats

Assembled in seconds!

Folds for easy storage and comes in its own storage bag

BPA free and Food Safe

Compatible with the Tidy Tot Disposable Coverall Bibs
About the Tidy Tot Bib and Tray Kit
Our iconic long sleeve waterproof bib and portable tray kit completely protects baby, highchair and floor from food mess and spills. A mealtime essential for you and your baby whether you're following traditional puree weaning, baby-led weaning or mixing it up, the Tidy Tot Bib and Tray Kit will cut your cleaning time in half! You might get that hot cup of tea afterall!
Designed by parents and tested by parents every step of the way, your Tidy Tot Bib and Tray Kit is easy to clean; wash or wipe the tray in the sink and machine wash the long-sleeve bib.
Universal fitting. Fits highchairs with and without their own tray, including the popular Ikea Antilop. Can be used with booster seats straight up to the table. Kit includes Small Highchair Adaptor that improves the stability of the tray on smaller framed highchairs. Improved suction cups stick tray firmly to highchair.
The Tidy Tot Tray is 100% Food Safe. Beware of cheap imitations! The Tidy Tot Bib and Tray Kit is the only bib and tray kit that is certified food safe (we are multi-award winning for a reason 😉).
Designed for use at home and in restaurants to create a totally hygienic eating surface when eating out. Includes wipe clean zipped storage bag for easy transportation.
The Tidy Tot Bib and Tray Kit is also perfect for messy play; known to improve baby's cognitive development, fine motor skills and confidence in decision making. Check out our disposable coverall bibs which are perfect for painting!
Loved by parents worldwide
We are proud of every single award we have received, but most of all of the amazing feedback we receive from parents all over the world.
98% of parents who tried the Tidy Tot Bib & Tray Kit for 2 weeks would recommend it to a friend*
*based on a UK trial of 48 parents who used the product for 2 weeks.
"What a life saver!! Bought this product recently as I'm trying Baby Led Weaning and it's made meal times sooooo much less messy. I use it everyday now and wouldn't be without it. Such a simple solution for a problem that no one has managed to solve before now."
FACEBOOK REVIEW
Full instructions for use are included in pack.
Place the Tidy Tot tray on top of your highchair or over your booster seat and use the suction cups on the underside of the tray to secure.
Remove the wash strip from the Tidy Tot bib and secure this neatly to the front of the tray. Take care to line up the Velcro strips on the bib and the tray – the Velcro strips should not be visible.
If you feel the Tidy Tot Tray needs more stability, secure to the back of the highchair using the Small Highchair Adaptor.
Tray: Wipe or wash clean with warm soapy water after each use. Allow to air dry and store in a dry place. Do not machine wash. Not to be used in the dishwasher. Do not iron. Do not tumble dry. Some staining may occur as a result of contact with food stuffs.
Bib: Machine wash at 40 degrees. Use the wash strip provided to close the hook and loop fastening on the bottom of the bib. Wash and dry inside out. Do not use biological washing powder or fabric softener. Do not wash with delicate items. Do not dry clean. Do not iron. Do not bleach. Cool tumble dry.
Storage Bag: Wipe clean only.
My highchair does not have its own tray. Can I still use the Tidy Tot? Yes. Your Tidy Tot kit will fit on most highchairs or boosters seat, including highchairs without a tray.
Are there any highchairs the Tidy Tot Tray won't work with? Unfortunately yes. We know of the following chairs it doesn't work well with, but do let us know if there are any we have missed: Mamas and Papas Bop, Baby Bjorn, Concord Spin, Keter 3-in-1, Phil and Teds High Pod. With everything else, your Tidy Tot kit should work just fine!
Will the suction cups stick to any surface? Suction cups will not stick to textured surfaces. If you are trying to stick the suction cup to a smooth flat surface and find it's still not sticking well, fully immerse the suction cup in boiling water for 30 seconds. Any kinks or irregularities in the cup will disappear and full suction will be resumed!
What is the Small Highchair Adaptor for? This can be used when using the Tidy Tot Tray on smaller framed highchairs e.g. Ikea Antilop. It should stop the Tidy Tot Tray from dropping down at the back and sides and ensure your tray remains stable.
Related Products
---